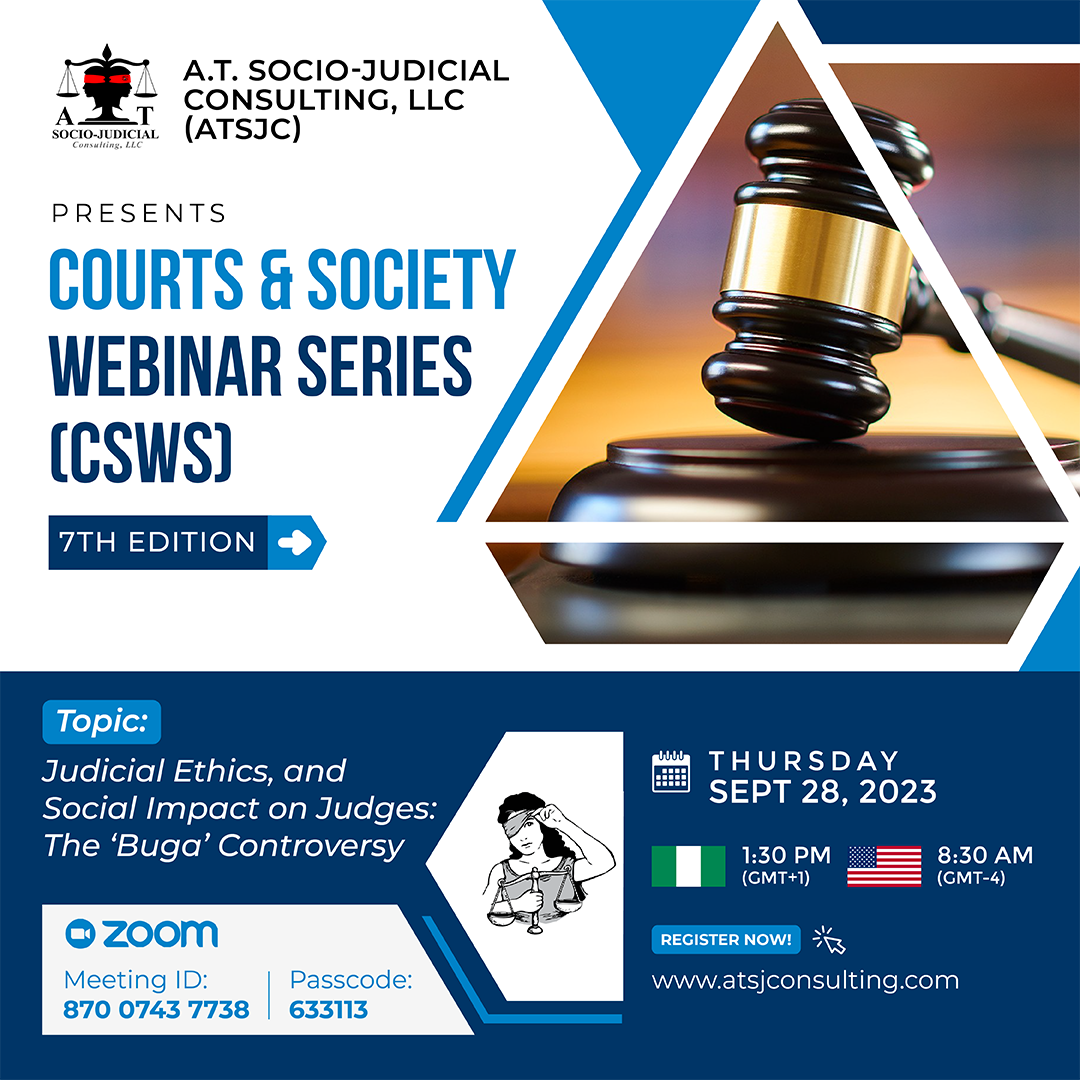 A.T Socio-Judicial Consulting (ATSJC) is inviting you to a scheduled Zoom meeting for the Courts & Society Webinar Series (CSWS) 7th Edition, 2023.
Topic: Judicial Ethics, and Social Impact on Judges: The 'Buga' Controversy
Concept Note: https://bit.ly/3sWdowo
Date: Thursday, September 28, 2023
Time: 1:30 pm Nigeria time | 12:30 pm Liberia time | 8:30 am New York time
Join Zoom Meeting: https://bit.ly/3Zke5eM
Meeting ID: 870 0743 7738
Passcode: 633113
One tap mobile:
+16469313860,,3715142325#,,,,*121212# US
+16465588656,,3715142325#,,,,*121212# US (New York)
Dial by your location:
+1 646 931 3860 US
+1 646 558 8656 US (New York)
+1 312 626 6799 US (Chicago)
+1 301 715 8592 US (Washington DC)
+1 305 224 1968 US
+1 309 205 3325 US
+1 669 444 9171 US
+1 669 900 9128 US (San Jose)
+1 689 278 1000 US
+1 719 359 4580 US
+1 253 205 0468 US
+1 253 215 8782 US (Tacoma)
+1 346 248 7799 US (Houston)
+1 360 209 5623 US
+1 386 347 5053 US
+1 507 473 4847 US
+1 564 217 2000 US
Find your local number: https://us02web.zoom.us/u/kcaaQrZmAn
A.T. Socio-Judicial Consulting, LLC also known as ATSJC, is a New York State registered consulting firm that focuses on improving socio-judicial development in societies across the globe. Through research, literature, presentations, symposiums, conferences, workshops, and series of training, we aim to enlighten judges, lawyers, students, law enforcement agents/agencies, the media, stakeholders of the criminal justice system, and the general public about the roles of courts in society, in order to bridge the gap between law and society to restore public confidence in our justice systems.
Hon. Justice Niki Tobi Biennial Symposiums
A concept that engages in tenacious research about Socio-Judicial developments in our immediate communities, and the contemporary world. Through this concept, we attempt to define the roles of judges in society, and redefine what justice means to society, while explaining to the society, the modus operandi of the judicial process with emphasis on the various challenges that judges encounter in executing their roles in democratic societies.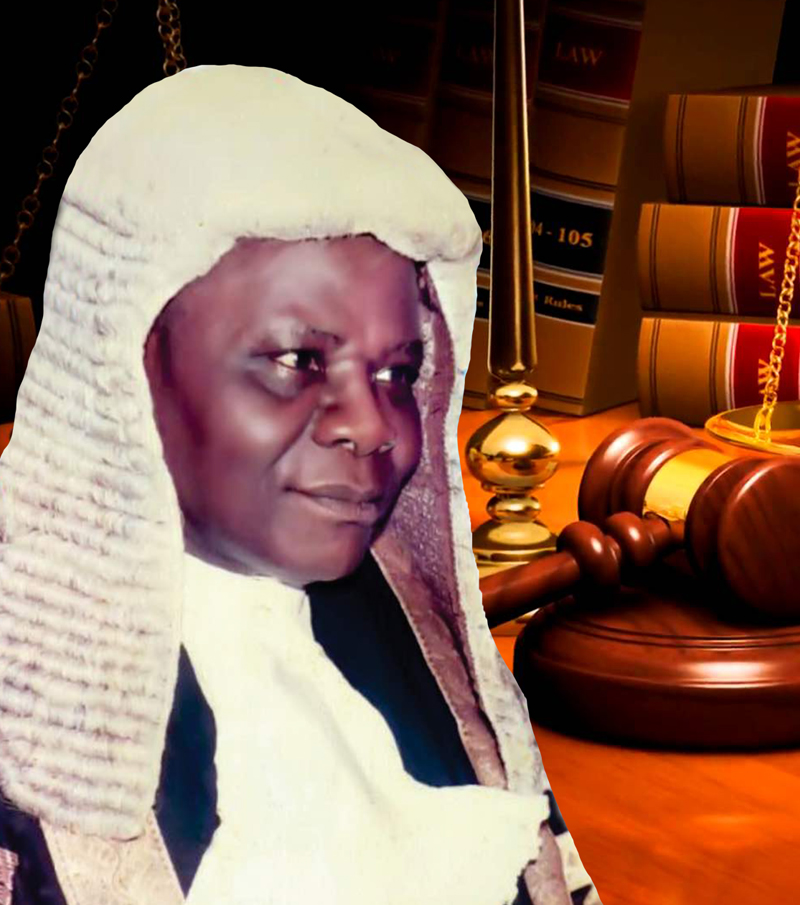 He is the living law. The symbol of courts and society. A deceased Nigerian judge whose judicial pronouncements challenged, shaped, and defined the court's roles in society. A simple man whose books, articles, lectures, seminar presentations, speeches, judicial pronouncements, jokes, reprimands, and integrity lives in us, and with us every day in our hearts, homes, offices, chambers, courts, and society. He 'is' a tree with many branches that spreads from the bar to the bench, from facets of government to the public domain. He was an all-around achiever– a practicing Christian who loved Jesus Christ. He was a loving and respectful husband, father, grandfather, brother, uncle, a reliable friend, a trusted elder statesman with a fondness for tradition–especially with his regalia (he wore the Ijaw traditional regalia at almost every occasion), yet he detested tradition when it dared discriminate against women in his landmark judgment Mojekwu v. Mojekwu. He was a humble mentee and mentor, a patriotic national leader who led/executed major national strategic assignments that bothered on Nigeria's democracy and security: the drafting of the 1999 Constitution, the constitutional conference (popularly known as CONFAB), and the Plateau/Jos crisis.
Niki Tobi was a professor of law turned jurist. He started his legal career as a state counsel, then moved into academia as a professor of public and private law (with expertise in jurisprudence and Constitutional law). He was a dean of law, a deputy vice-chancellor, an acting vice-chancellor. From academia, he moved to the bench, and rose from the high court to the court of appeal and then to the Supreme Court of Nigeria. He retired as the second most senior judge in Nigeria, as next to the chief justice. He left to glory on June 16, 2016, and was buried on December 2nd, 2016. We immortalize him today with gratitude for the gift he left with us – His brain (expressed in books and law reports). His intellectual and erudite reasoning contributes immensely to advancing judicial jurisprudence in Africa.
Like America's Justice Benjamin Nathan Cardozo, and England's Lord Alfred Thompson Denning, Niki Tobi's utterances, literature, philosophy, and decisions were/is a significant influence on the development of Nigerian/African law. He made bold judgments that contradicted the law and status quo, where necessary, in the interest of society. For Niki Tobi thinks of law and throughout his judicial decisions, he made it clear that the law could wear a human face when necessary.
Why should we Immortalize Niki Tobi?
To celebrate the African judicial jurisprudence and judicial culture

.

To 

enlighten the local and international communities of the roles, efforts, and dilemmas of judges and the judicial system

.

The judiciary that many devoted judges (like Niki Tobi) served deserves the honor for the thankless public service to society.

Society should remember and celebrate judicial contributions to democracy, law, justice, social, economic, political, educational, cultural, sociopolitical, socioeconomic advancements in our society, as a reminder of the indispensable role judges play in our society

Niki Tobi represents "our heroes past…" whose labours "…shall never be in vain…" So his legacy and that of other judges deserves to thrive.

Niki Tobi is one of the most celebrated Nigerian judges that has contributed to the intellectual, jurisprudence and socio-judicial development of the Nigerian legal/judicial system.
How we want to Immortalize Niki Tobi
To organize regular memorial symposium series on judicial development and publish presentations from such symposiums as reference materials.
To organize dinners and other events to celebrate his core values- courage, humility, fairness, integrity, transparency, diligence, and hard work.
To publish second editions of his major books.

To publish tributes on social media platforms, days to the symposium.

At least one law firm from every state to send a tribute to the email tributetonikitobi@gmail.com

a week before any symposium

.
To continue celebrating Nigerian judges and their judicial pronouncements and jurisprudence.
The Purpose of the Biennial Symposiums
To immortalize the late jurist and recollect his contributions to law and society.
To celebrate the Nigerian judiciary and the Nigerian judicial culture through landmark judgments of the late jurist and other judges that impacted society.
To advertise Africa's judicial jurisprudence through judicial pronouncements and publications of judges and magistrates.
To advance judicial jurisprudence of judges from different countries.
To inspire/instigate further research on legal/judicial development.
To enlighten local and international communities about the Nigerian judiciary.
To facilitate and foster intellectual, legal/judicial relationships and mentor/mentee relationships locally and internationally (between Nigerian and foreign judges/academics/students).
To discuss contemporary issues in judicial development, through a review of the judicial process of various countries and propose a way forward.
To create a synergy between various judicial systems across the world to inspire cross-development.
To kick-start regular in-person/virtual rendezvous where judges from different jurisdictions across the globe meet to compare and discuss experiences.
The Hon. Justice Niki Tobi 1st Biennial Symposium
Theme: The Nigerian Judge and Society: Hon. Justice Niki Tobi's Impact on the Development of Law and Society
Venue: Andrews Otutu Obaseki Auditorium, National Judicial Insitute, FCT-Abuja
Date: December 2, 2021
Courts and Society Webinar Series (CSWS) – 1st Edition
Theme: Courts' Influence on the Development of Law and Society
Topic: The Impact of Judicial Precedent on Societal Development
Date: April 25, 2022
Courts and Society Webinar Series (CSWS) – 2nd Edition
Theme: Courts' Influence on the Development of Law and Society
Topic:Courts as Agents of Social Change
Date: July 21, 2022
Courts and Society Webinar Series (CSWS) – 3rd Edition
Theme: Courts' Influence on the Development of Law and Society
Topic: The Impact of Judicial Education in Developing Law and Society
Date:  September 1, 2022
Courts and Society Webinar Series (CSWS) – 4th Edition
Theme: Courts' Influence on the Development of Law and Society
Topic: The Court's Role in Advancing Human Rights in a Diversified Society
Date:  December 1, 2022
Courts and Society Webinar Series (CSWS) – 5th Edition
Theme: The Courts Role in Upholding Democracy in Africa: From Nigeria's Perspective
Topic: The Court's Role in Nigeria's Electoral Process
Date:  March 30, 2023
Courts and Society Webinar Series (CSWS) – 6th Edition
Theme: The Courts Role in Upholding Democracy in Africa: The Nigerian Experience
Topic: Women Judges' Impact on Society and Democratic Development
Date:  July 27, 2023
Address: 8 Tilton Avenue, Oneonta, New York 13820, USA
Mailing Address: PO Box 1334, Oneonta, New York 13820, USA
Phone: +1 (607) 314-0236, +234-803 306 4963
Privacy Policy
Please note that your data or information is covered by the Privacy Act of 1974 (5 U.S.C. Sec.552a). Thus, A.T. Socio-Judicial Consulting, LLC, which is a New York-based organization is bound by that law to protect and be discreet with your personal information. Therefore, we will never disclose, share or compromise your personal information for telemarketing or any websites, under any circumstance. This web page is secure and well protected.